Biography
<< Back
Mgr. Philip Whitmore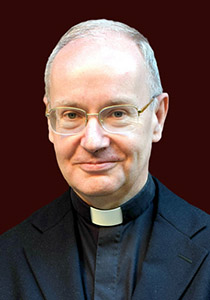 Monsignor Philip Whitmore has been Rector of the Venerable English College in Rome since 2013.
A graduate in Music from Oxford University, he plays the piano and the violin. Research in 18th-century musical archives caused him to travel extensively in Western and Eastern Europe in the early 1980s. After obtaining a Prize Fellowship at Magdalen College, Oxford, and a doctorate for his work on the cadenza in the Classical keyboard concerto, he was accepted as a seminarian by the archdiocese of Westminster. He trained both at Allen Hall in London and at the Venerable English College and was ordained a priest by Cardinal Basil Hume in 1993. For his first six years of priesthood he served at Westminster Cathedral, working particularly closely with the fine musical foundation there.
One of Cardinal Hume's last acts was to send "the Precentor of his Cathedral" to Rome, to work as an official in the Congregation for Bishops. Five years later, Mgr Whitmore was transferred to the English-language section of the Secretariat of State. Here, throughout the pontificate of Pope Benedict XVI, he became a familiar face (and voice) to those following the weekly broadcasts of the Holy Father's General Audiences. Listeners to Vatican Radio may also recall hearing some of his programmes on sacred music. One of the highlights of those years came when he was asked to translate into English the second and third parts of Pope Benedict's "Jesus of Nazareth" trilogy. In 2010 he was appointed a Prelate of the Apostolic Camera.
Since becoming Rector of the Venerable English College, he has been responsible for the formation of priests from all over England and Wales, as well as the Nordic countries. He has been actively involved in the setting up of the North American Friends of the Venerable English College and is planning a second trip to the United States in this context when circumstances permit.